Dear BitMart Users,
It's Thanksgiving season! To express our gratitude to our amazing BitMartians, we are giving away a total of 19,800 GE + 50,000 BMX in our GEChain (GE) Net Buying Competition!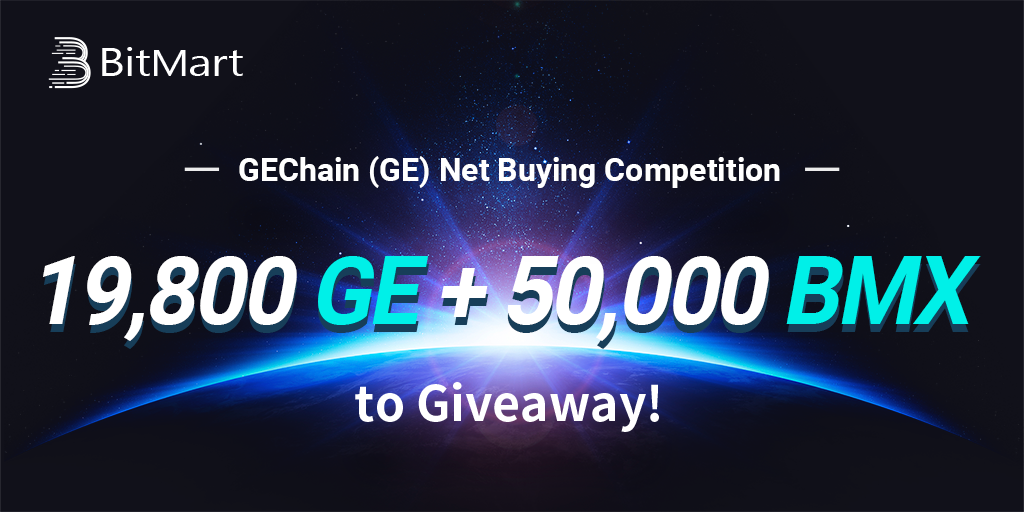 Period: 11/11/2019 10:00 AM to 12/02/2019 10:00 AM (EST)
Users will be ranked in terms of the total GE net buying volume (buy-sell-withdrawal) on their BitMart account on GE/USDT trading pair during the competition period. The top 10 users with the largest net buying volume will be rewarded with the following prizes:
1st: 5,500 GE + 15,000 BMX

2nd: 4,000 GE + 10,000 BMX

3rd: 2,600 GE + 7,500 BMX

4th-10th: 1,100 GE + 2,500 BMX each
Trade & Win Now: GE/USDT
Note:
Rewards will be sent within a 2-week period after the competition concludes.

All trades that we deem to be "wash trades" will not be counted towards your trading volume for this trading competition. BitMart reserves the right to freeze any suspected accounts.

BitMart reserves the right to cancel or amend the competition or competition rules at our sole discretion.
ATTENTION: Cryptocurrency investment is subject to high market risk. Please make your investments cautiously. BitMart will make its best effort to list only high-quality coins, but will not be responsible for your investment losses.
Thank you for supporting BitMart!
BitMart Team
November 7, 2019