Global Achievement:
bitmart.com has reached the global rank of 12,068th last week among all websites.
Highest 24-hour trading volume achieved: 458 Million USD.
Highest rank achieved among all exchanges on CoinMarketCap: No. 23.
Product Development:
Improved liquidity for multiple trading pairs.
Continued technical docking with multiple pre-listing projects.
Continued development on new listing projects.
Marketing Operation:
Operated our social media channels, forums, and communities on a daily basis.
Listed Treelion (TRN) with new trading pairs: TRN/USDT.
Negotiated and prepared multiple pre-listing projects.
Promoted newly listed projects, strategic partnerships, and trading competitions.
Launched the Quick Exchange Promotion - Round 2.
Prepared to attend the 2019 International Fintech Innovation Conference (will be held on October 14, 2019, in Seoul, Korea).
Developed business relationships with multiple potential projects.
Continued further marketing cooperations with relevant individuals, agencies and institutes in the U.S., Japan, Korea, Russia, Vietnam, Nigeria, and Turkey.
Important Update:
As stated the "Repurchase Mechanism" in our white paper, BitMart has used 20% of the income earned from trading fees from August 20th, 2019 to September 19th, 2019 to repurchase and burn 1,841,643.18121963 BMX (approx. 60,406 USD). The Repurchase Mechanism will continue until 500 million BMX are burnt, thus reducing the total supply of BMX.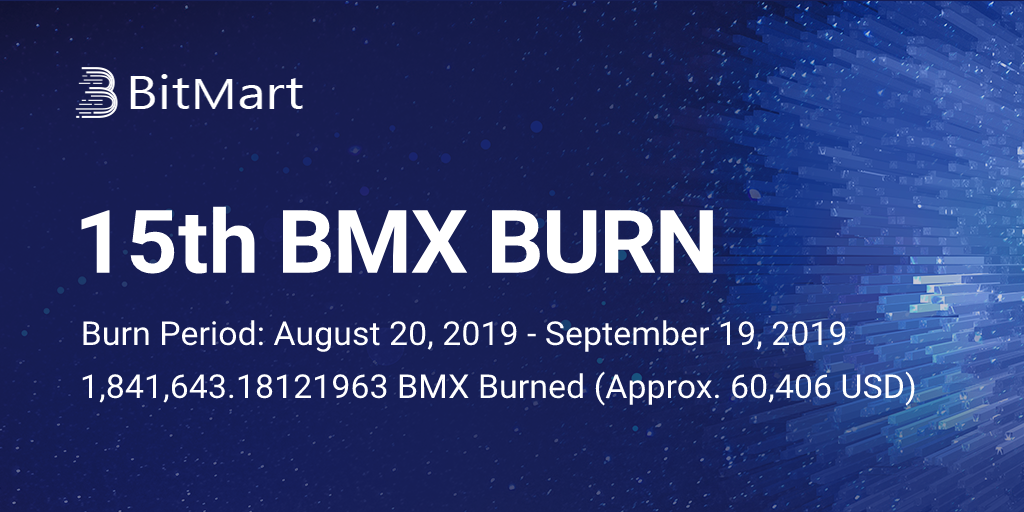 Social Media: