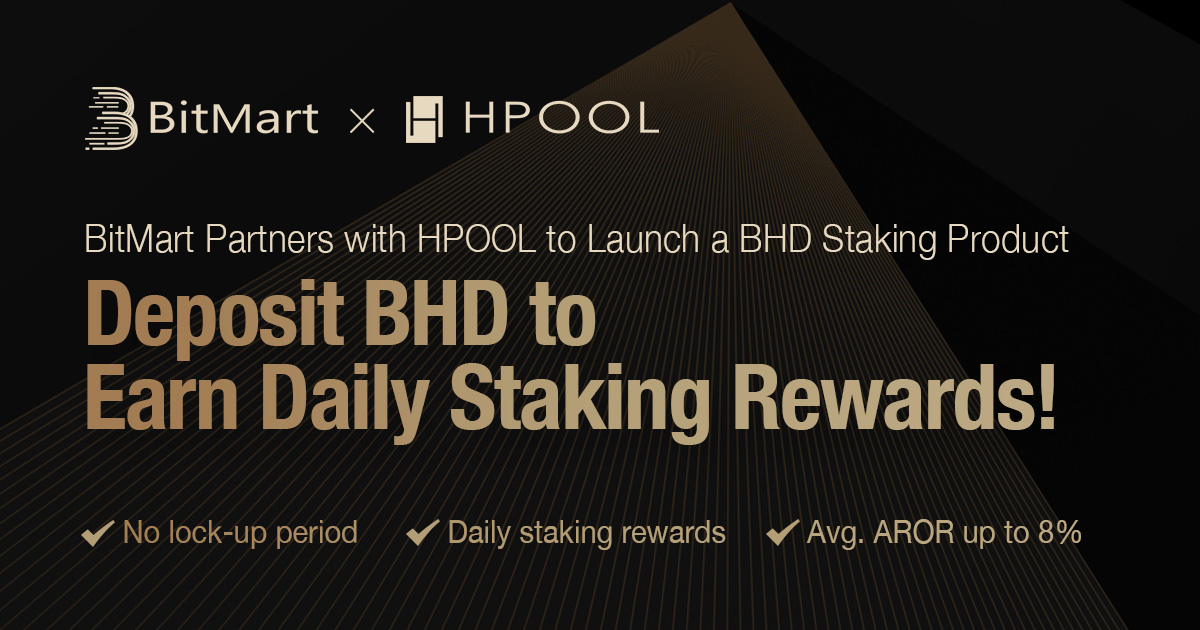 Dear BitMart Users,
Recently, BitMart announced its strategic partnership with HPOOL, China's largest hard disk mining pool, to launch a BHD Staking Product.
How to get involved:
Users only need to deposit BHD into their BitMart accounts where they can earn daily staking rewards.
Terms and Conditions:
BitMart will join HPOOL for BHD mining.

Users' assets will still be stored in their BitMart wallets with no transfer of ownership.

Users can deposit and withdraw their BHD to BitMart wallet at any time. Regarding withdrawal, BHD will arrive in real-time.

The average BHD balance of the day before will be regarded as the principal. BitMart will distribute the intraday staking rewards to users' account each day.

The current daily interest rate of the BHD Staking Product is 0.02%.

In the future, BitMart will strategically adjust the daily interest rate according to the retention of the reserve fund and mining mortgage parameters of BHD.
ATTENTION: This announcement is only intended to be a legal disclosure to BitMart users. This is not investment advice, or an endorsement by BitMart as to the intrinsic value of a digital asset, or a commitment by BitMart team to support any specific asset/token that the announcement pertains to.
BitMart Team
June 26, 2019